Birmingham to Stratford Line
The Birmingham to Stratford Line is a commuter railway line predominantly in the West Midlands region of England. It runs from Birmingham to Stratford-upon-Avon, Warwickshire, now the southern terminus of the line, although the line originally continued to Cheltenham as part of the Great Western Railway route from Birmingham to Bristol. Services on the line are currently operated by London Midland.
The cities, towns and villages served by the line are listed below.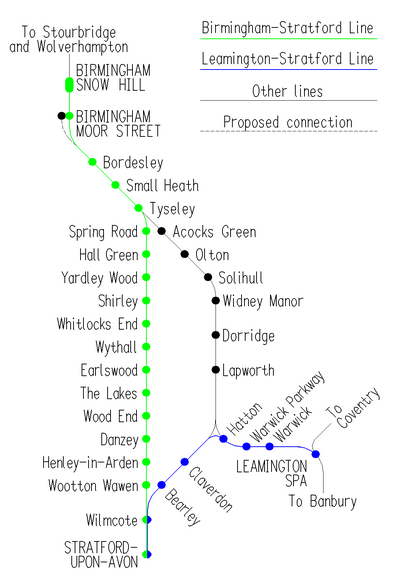 Current daytime service levels between Stratford-upon-Avon and Birmingham are one train per hour, and a further 2 trains per hour between Shirley and Birmingham, meaning a 3 trains per hour service exists between Shirley and Birmingham. On summer Sundays, a steam service is operated by Vintage Trains between Birmingham and Stratford.