List of bus routes in Colchester
Talk

0
3,142pages on
this wiki
This is a
list of bus routes in Colchester
. The colours of route number refer to the colours on the operators' official route maps, timetables and map published by the council.
[1]
Bus routes in Colchester are operated by
Network Colchester
,
First Group Essex
,
Regal Busways
,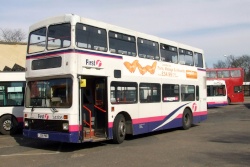 Hedingham Omnibuses
,
H.C. Chambers & Son
, Beestons, New Horizon Travel and Cedric Coaches. See below for details of the towns routes valid .
Current routes
Edit
List of current routes
Edit
Colour
Route
Start
End
Via
Operator
1
Shrub End, Ambrose Avenue
Greenstead, Hamlet Dr
Prettygate, Shrub End Road, Town Centre, Harwich Road, Greenstead Library
Network Colchester
1A
Shrub End, Ambrose Avenue
Greenstead, Elm Cres
Prettygate, Shrub End Road, Town Centre, Harwich Road, Greenstead Library
Network Colchester/First Essex
2
Horkesley Heath, Malvern Way
Severalls Park, The Crescent
North Station, Town Centre, Ipswich Road, St Johns Estate, Highwoods Tesco, Business Park, Mill Road, Gavin Way
Network Colchester/First Essex
2B
Boxted (Cooks Hill)
Severalls Park, The Crescent
Horkesley Heath, North Station, Town Centre, Ipswich Road, St Johns Estate, Highwoods Tesco, Business Park, Mill Road, Gavin Way
Network Colchester
2C
Highwoods Tesco
General Hospital
St John's Estate, Ipswich Road, Town Centre, Rail Station
Network Colchester
3
High Street
Hythe Tesco
St Andrews Avenue, Harwich Road, Bridgebrook Green, Greenstead
Hedingham Omnibuses

(Withdrawn from 31/8/14)

4
High Street
Tollgate Medical Centre
Maldon Road, Prettygate, Chaucer Way, Westlands, Dugard Av, Stanway
Hedingham Omnibuses

(Network Colchester from 1/9/14)

6
Grange Way
Grange Way
Old Heath, Recreation Ground, Town Centre, Recreation Ground, Old Heath
Network Colchester
8
Monkwick, Gosfield Road
Highwoods Tesco
Silver Oyster, Town Centre, North Stn., Hospital, Severalls Lane or Severalls Business Park
Network Colchester
8C
Monkwick, Gosfield Road
General Hospital
Monkwick Avenue, Mersea Road, Town Centre, North Station
Network Colchester
8E
Monkwick, Gosfield Road
Horkesley Heath, Malvern Way
Monkwick Avenue, Town Centre, North Station, Mile End, Defoe Crescent
First Group Essex
11
North Station
Highwoods Tesco
Cowdray Avenue, St Johns Estate, Tyehurst, Magdalen Wood
Hedingham Omnibuses
15
North Station
Lexden Oaklands Avenue
Cymbeline Way, Chaucer Way, Prettygate Shopping Centre, Shrub End Road, Straight Road
Hedingham Omnibuses

(First Essex from 1/9/14)

50
Bus Station (Osborne Street Stand Aa)
Malting Green, Hawfinch Road / Tollesbury
Gurdon Road, Maypole Green, Kingsford, Layer-de-la-Haye
Hedingham Omnibuses/First Essex
61
North Station
University of Essex
Town Centre, Old Heath Road, University Quays, Essex University
First Group Essex
61A
Town Centre
University of Essex
Town Centre, Old Heath Road, University Quays, Essex University,
First Group Essex
62
North Station
Wivenhoe Rail Station
Town Centre, Greenstead Road, Essex University
First Group Essex
62A
North Station
Wivenhoe Co-op
Town Centre, Greenstead Road, Essex University, Wivenhoe
First Group Essex
63
Tufnell Way
Roman Way
North Station, Town Centre, Maldon Road, Garrison, Berechurch Road, Berechurch Hall Road
First Group Essex
64
Greenstead Library
Shrub End, Hazell Avenue
Tesco Hythe, Hythe Hill, Town Centre, Layer Road, John Kent Ave, Iceni Way
First Group Essex
64A
Greenstead Library
St Michaels, Peerswood Road
Tesco Hythe, Hythe Hill, Town Centre, Layer Road, Earlswood Way
First Group Essex
64B
Greenstead Library
St Michaels, Peerswood Road
Tesco Hythe, Hythe Hill, Town Centre, Layer Road, Earlswood Way
First Group Essex
65
Stanway Tollgate Sainsbury's
Highwoods Tesco
Fiveways, London Road, Lexden Road, Town Centre, North Station, Hospital, Severalls Lane
First Group Essex
66
West Bergholt, Queens Head
Rowhedge, Rectory Road
North Station, Town Centre, Recreation Ground, Old Heath Post Office
First Group Essex / Network Colchester
66A
Head Street
Old Heath, Speedwell Road
Town Centre, Recreation Ground, Barnhall
First Group Essex
67
General Hospital
West Mersea, High Street
North Station, High Street, Blackheath, Abberton, Peldon, West Mersea (The Fox)
First Group Essex
67A
General Hospital
West Mersea, High Street
North Station, High Street, Blackheath, Abberton, Peldon Village, West Mersea (Mill Road)
First Group Essex
67B
West Bergholt
West Mersea, High Street
Town Centre, Blackheath, Abberton, Peldon Village, West Mersea (The Fox)
Network Colchester
67B
Town Centre
West Mersea, High Street
Blackheath, Abberton, Peldon Village, West Mersea (The Fox)
First Group Essex
67D
Queen Street (Stand Jb)
West Mersea High Street
Blackheath, Abberton, West Mersea (Mill Road)
First Group Essex
70
Bus Station (Osborne St Stand Af)
Chelmsford Bus Station
Tollgate, Marks Tey, Coggeshall, Braintree, Great Leighs, Broomfield
First Group Essex
70
Bus Station (Osborne St Stand Af)
Braintree Bus Park
Lexden, Tollgate, Marks Tey, Coggeshall, Bradwell
Regal Busways / Netwok Colchester
71
Bus Station (Osborne St SDtand Af)
Chelmsford Bus Station
Marks Tey, Kelvedon, Witham, Hatfield Peverel, Boreham, Springfield
First Essex
71A
Bus Station (Osborne St Stand Af)
Chelmsford Bus Station
Marks Tey, Kelvedon, Witham, Hatfield Peverel, Boreham, Springfield
First Essex
71C
Bus Station (Osborne St Stand Af)
Chelmsford Bus Station
Marks Tey, Kelvedon, Rivenhall End, Witham, Boreham, Springfield
Regal Busways
71X
Bus Station (Osborne St Stand Af)
Chelmsford Bus Station
Marks Tey, Witham, Springfield, Chelmer Village Shopping Centre
First Group Essex
74
Bus Station (Stanwell Street Stand Bb)
Clacton-on-Sea, Jackson Road
Hythe Tesco, University, Wivenhoe, Alresford, St Osyth
First Group Essex
74B
North Station
Clacton-on-Sea, Jackson Road
Town Centre, University, Wivenhoe, Alresford, St Osyth, Coopers Ln
Network Colchester
75
University of Essex
Maldon, Leisure Centre
Greenstead, Harwich Road, Town Centre, Shrub End, Colchester Zoo, Tiptree, Great Totham, Heybridge
First Group Essex
75A
University of Essex
Tiptree, The Centre
Greenstead, Harwich Road, Town Centre, Shrub End, Colchester Zoo, Tiptree New Times
First Group Essex (Operates from 8/4/13)
75B
University of Essex
Town Centre
Greenstead, Harwich Road (operates until 6/4/13)
First Group Essex
76
Bus Station (Stanwell Street Stand Bb)
Clacton-on-Sea, Jackson Road
Hythe Tesco, University, Frating, Weeley, Little Clacton, Great Clacton
First Group Essex / Network Colchester
76X
Bus Station (Stanwell Street Stand Bb)
Clacton-on-Sea, Jackson Road
Hythe Tesco, Frating, Weeley, Little Clacton
First Group Essex
77
General Hospital
Great Bentley, Aingers Green
North Station, Town Centre, Greenstead Road, Elmstead Market, Frating, Great Bentley
New Horizon Travel
78/78A
High Street
Brightlingsea
Greenstead Road, University, Wivenhoe, Alresford, Thorrington
New Horizon Travel
80
Boxted, Homedale Crnr
Fordham, Memorial
Mile End, Hospital, Town Centre, Stanway, Fordham Heath
Hedingham Omnibuses

(Withrawn from 31/8/14)

83
Bus Station (Osborne St Stand Ab)
Colne Engaine
Tollgate, Marks Tey, Great Tey, Chappel, Wakes Colne, Earls Colne
Hedingham Omnibuses
83A
Bus Station (Osborne St Stand Ab)
Mount Bures
Tollgate, Marks Tey, Great Tey, Chappel, Wakes Colne Green
Hedingham Omnibuses
84
Bus Station (Stanwell Street Stand Bc)
Sudbury, Bus Station
North Station, Hospital, Nayland, Leavenheath, Newton Green
H.C. Chambers & Son
87
Town Centre/North Station/Hospital
Brightlingsea
Hospital (Sundays) North Station (Sundays/Evenings) Town Centre, Greenstead Road, University, Wivenhoe, Alresford, Thorrington
Hedingham Omnibuses
88
Bus Station (Osborne St Stand Af)
Halstead, Conies Road
Lexden, Eight Ash Green, (Aldham) Wakes Colne, Earls Colne
First Essex
88
Bus Station (Osborne St Stand Af)
Halstead, Conies Road
Lexden, Eight Ash Green, Aldham, Wakes Colne, Earls Colne
Regal Busways/Network Colchester
88
Town Centre
Halstead, Conies Road / Sible Hedingham
Lexden, Eight Ash Green, Wakes Colne, Earls Colne
Hedingham Omnibuses
88A
Bus Station (Osborne St Stand Af)
Halstead, Conies Road
Lexden, Eight Ash Green, Fordham, Wakes Colne, Earls Colne
First Group Essex
88B
Bus Station (Osborne St Stand Af)
Little Tey, Godbolts Farm
Lexden, Eight Ash Green, Fordham Heath, Fordham, Wakes Colne
Network Colchester
88C
Bus Station (Osborne St Stand Af)
Aldham
Lexden, Eight Ash Green,
First Essex
92
Town Centre
Tollesbury Square
Shrub End, Colchester Zoo, Salcott Corner, Tolleshunt D'Arcy
Hedingham Omnibuses/First Essex
92A
Town Centre
Tollesbury, Square
Layer Road, Layer-de-la-Haye, Staffords Corner, Great Wigborough
Hedingham Omnibuses/Network Colchester
92B
Town Centre
Tollesbury, Square
Maldon Road ,Layer-de-la-Haye, Layer Breton, Gt Wigborough
Hedingham Omnibuses
93
Bus Station (Stanwell St Stand Bc)
Ipswich Old Cattle Market
Langham, Stratford St Mary, East Bergholt, Capel St. Mary
Carters Coaches
94
Bus Station (Stanwell St Stand Bc)
Hadleigh Bus Station
North Station, Langham, Stratford St. Mary, East Bergholt, Raydon
Carters Coaches
102
Bus Station (Stanwell St Stand Bb)
Harwich Bus Station
Ardleigh, Dedham, Manningtree, Mistley, Bradfield, Wix, Great Oakley, Parkeston, Dovercourt
Network Colchester
103
Bus Station (Stanwell St Stand Bb)
Harwich Bus Station
Ardleigh, Manningtree, Mistley, Bradfield, Wrabness, Ramsey, Dovercourt
First Group Essex
104
Bus Station (Stanwell St Stand Bb)
Harwich Bus Station
Ardleigh, Manningtree,Mistley, Bradfield, Wix, Great Oakley, Dovercourt
First Group Essex
105
Bus Station (Stanwell St Stand Ba)
Walton-on-the-Naze
Crockleford, Gt Bromley, Tendring, Thorpe-le-Soken, Frinton
Network Colchester
107
Bus Station (Stanwell St Stand Ba)
Walton-on-the-Naze
Crockleford, Gt Bromley, Tendring, Thorpe-le-Soken, Kirby-le-Soken, Frinton
Network Colchester
109
Bus Station (Stanwell St Stand Ba)
Walton-on-the-Naze
Greenstead Road, Elmstead Market, Tendring/Weeley, Thorpe-le-Soken, Frinton
Network Colchester
133
University of Essex
Stansted Airport
Bus Station, Marks Tey, Bradwell, Braintree, Felsted, Great Dunmow
Network Colchester (Airport by Bus)
168
Monkwick, Berechurch Hall Rd
North Station
Monkwick, Mersea Road, Town Centre (Withdrawn after 5/4/13)
First Group Essex
175
Queen Street (Stand Jb)
Fingringhoe, High Park Corner
Mersea Road, Blackheath, Abberton, Fingringhoe Hams Farm
First Group Essex
176
Highwoods Tesco
East Mersea, Blue Row
High St, Bus Station, Shrub End, Gt Wigborough, Peldon, West Mersea
Hedingham Omnibuses
247
Bus Station (Stanwell St Stand Bc)
Dedham, Marlborough Head
Rail Station, Langham, Lamb Corner, Dedham Heath
Beestons

    

    

    

250
Ipswich
Heathrow Airport
Braintree, Stansted Airport
National Express

    

    

    

350
Liverpool
Clacton-on-Sea
Manchester, Sheffield, Leicester, Cambridge, Colchester
National Express

    

    

    

481
London Victoria
Felixstowe
Stratford,Romford, Chelmsford, Witham, Colchester, Ipswich
National Express

    

    

    

484
London Victoria
Walton on Naze
Stratford,Romford, Chelmsford, Witham, Colchester, Clacton
National Express
754
Bus Station (Stanwell St Stand Bc)
Sudbury Bus Station
North Station, West Bergholt, Wormingford, Bures, Lt Cornard, Gt Cornard
H.C. Chambers & Son
Cite error: <ref> tags exist, but no <references/> tag was found