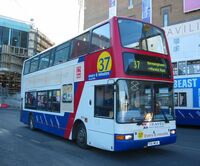 National Express West Midlands is the current trading name and brand name of West Midlands Travel Ltd (part of the National Express Group), a company which operates bus services from their depots in the cities of Birmingham and Wolverhampton, as well as the boroughs of Dudley and Sandwell, and Walsall in the West Midlands region of England. The Birmingham depots also operate routes in the adjoining borough of Solihull. They are the largest bus operator in the West Midlands. West Midlands Travel Ltd also has one depot in the city of Coventry which currently trades under the name National Express Coventry. The company previously operated under the trading name of Travel West Midlands and prior to that West Midlands Travel.
Ad blocker interference detected!
Wikia is a free-to-use site that makes money from advertising. We have a modified experience for viewers using ad blockers

Wikia is not accessible if you've made further modifications. Remove the custom ad blocker rule(s) and the page will load as expected.