126
Management
Operated by
National Express West Midlands
Garage
Wolverhampton Depot
Peak vehicle requirement
13
Route
Start
Birmingham
End
Wolverhampton
Length
12 miles
Service
Level
Daytime 06:30 - 23:00 Monday - Saturday, 10:00 - 18:00 approx. Sunday
Frequency
every 6 minutes
Journey time
1 hour
126E
Management
Operated by
National Express West Midlands/Travel Express (Route shows 126 for Travel Express]]
Garage
Wolverhampton Depot
Peak vehicle requirement
7
Route
Start
Dudley
End
Wolverhampton
Length
5 miles
Service
Level
Daytime 06:30 - 23:00 Monday - Saturday, 10:00 - 18:00 approx. Sunday
Frequency
every 15 minutes
Journey time
30 minutes
The 126/126E are bus routes in the West Midlands, United Kingdom. They run between Wolverhampton, Dudley and Birmingham.
Route and Frequency
Edit
The route calls at these major points:
Wolverhampton
Roseville
Dudley
Burnt Tree Island
Birchley Island/M5 Motorway
Bearwood
Broad Street
Birmingham
The route runs every 3-4 minutes in conjunction with Route 125 between Dudley and Wolverhampton. [1]
Route Map
Edit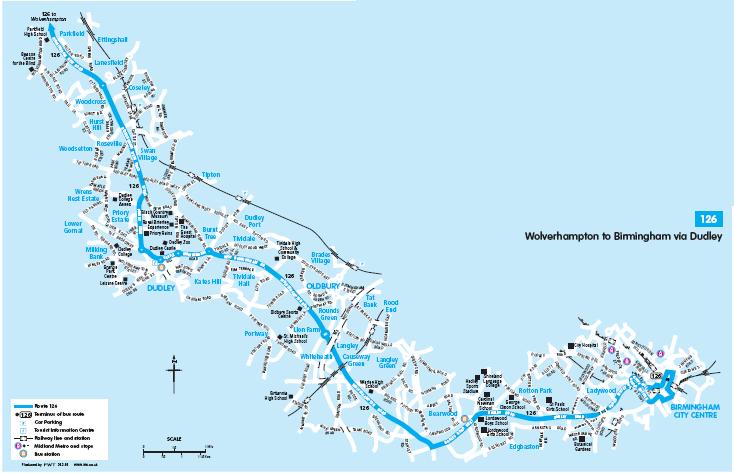 External Links
Edit
Travel West Midlands official website Network West Midlands Website
Ad blocker interference detected!
Wikia is a free-to-use site that makes money from advertising. We have a modified experience for viewers using ad blockers

Wikia is not accessible if you've made further modifications. Remove the custom ad blocker rule(s) and the page will load as expected.