X96
Management
Operated by
National Express West Midlands
Garage
Pensnett Depot
Peak vehicle requirement
6 each direction
Route
Start
Dudley
End
Stourbridge
Length
About 5 miles
Service
Level
07:00 - 22:00 Monday - Saturday, 09:00 - 19:00 Sunday

Frequency
every 20 minutes DAYTIME, 60 minutes EVENING AND SUNDAYS

Former Route Numbers
264, 264A, 265, 265A, 293, 296
Journey time
1 hour 5 minutes approximate
Night
19:00 - 22:00 Monday - Saturday as Route X96
The X96 route is a bus route in the West Midlands, United Kingdom created after the Dudley bus network review. It runs between Dudley to Wollaston Farm, Stourbridge.
Pre Dudley Network Review
Edit
Before the Dudley Bus Network Review of April 2008 this bus route was 3 different routes. It was:
Wrens Nest
Dudley
Holly Hall
Merry Hill Centre
Amblecote Road
Corbett Hospital
Stourbridge
Wollaston
Wollaston Farm
In a nutshell, it will depart Dudley at 13, 33 and 53 minutes past the hour and will depart Wollaston Farm at 15, 35 and 55 minutes past the hour up until 1835 from Wollaston Farm (then every hour at 30 minutes past) and from 1905 minutes past from merry hill (then every hour at 5 minutes past).
Route Map
Edit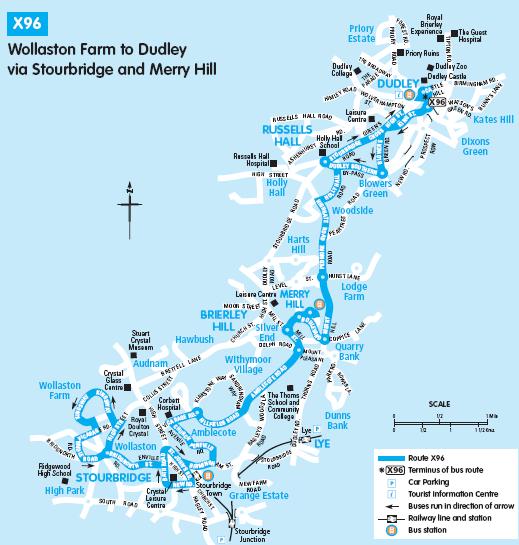 References
Edit
↑ http://www.expressandstar.com/2008/01/30/bus-route-shake-up-planned/ Express and Star 31/01/08
↑ http://www.networkwestmidlands.co.uk/dudley/allchangeleaflet.pdf Network West Midlands All Change in Dudley Leaftet
↑ http://www.networkwestmidlands.co.uk/dudley/ Network West Midlands All Change in Dudley site
External links
Edit