Network West Midlands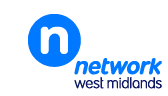 Starting in 2006 public transport information and ticketing in the Centro area has been branded as Network West Midlands as part of its 20 year strategy. In a similar fashion to other PTEs around the UK, it is trying to incorporate bus, train and tram travel into one network. This is being done to reduce confusion about the various companies that operate the different modes of transport (some of these are listed below):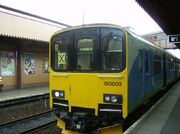 *- Part of the National Express Group
**- Part of the Go-Ahead Group
***- Part of the Rotala group
2005 Rebranding
Edit
The first signs of the rebranding programme was seen in third quarter of 2005 when some bus stop plates in Birmingham where replaced with ones of Network West Midlands design, signage at rail and tram stops and bus interchanges has also since undergone replacement, rebranding is intended to be completed by the end of 2007. The major bus stations and terminals in Birmingham have also been displaying posters informing people of the changes, which includes the introduction of a new set of travel cards:
nbus, replacing Busmaster
ntrain, replacing Railmaster
nnetwork, replacing Centrocard
ndaytripper, replacing Daytripper
The changes are also aimed at making travellers better informed, for example by providing more informative bus timetables.
Dudley Network Review
Edit
Network West Midlands have reviewed the Dudley bus network to create routes that better meet passenger needs. Some of the services will be combined to give passengers a more frequent service. Network West Midlands also wants to make changing between bus services at bus stations and interchanges easier and quicker.[1]
References
Edit
Cite error: <ref> tags exist, but no <references/> tag was found
Ad blocker interference detected!
Wikia is a free-to-use site that makes money from advertising. We have a modified experience for viewers using ad blockers

Wikia is not accessible if you've made further modifications. Remove the custom ad blocker rule(s) and the page will load as expected.