West Midlands Coventry Road bus corridor
Talk

0
Share
The Coventry Road bus corridor is a group of services running along the Coventry Road in Birmingham, United Kingdom. The services operating along this corridor are numbered 58, 59, 60, X1 and X2.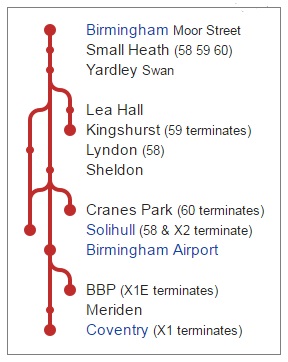 58 / 59 / 60 / X2 Birmingham - South Yardley - Solihull / Kingshurst / Cranes Park
Edit
Route descriptionsEdit
Service 58 links Birmingham to Solihull, service 59 links Birmingham to Lea Hall & Kinghurst, service 60 links Birmingham with Cranes Park and Service X2 links Birmingham with Solihull railway station. All services serve the Coventry Road with 58/59/60 travelling via Small Heath and service X2 using Small Heath Highway. These services are operated by National Express West Midlands from their Birmingham Central garage using single deck Wright Eclipse 2 B7RLE (58/59) and double deck ADL Enviro400 (60) & ADL Enviro400 MMC (X2) buses (the latter in Platinum livery with specific route branding relief of dark green), and have suffered very little competition from other operators.
Service X2 was formally numbered 957 (now)
The services all serve the areas of Small Heath (except X2), Hay Mills and South Yardley (Swan Island), with the 60 & X2 also serving Sheldon. St Andrews football ground (Birmingham City F.C.) in Bordesley is also served by services 58, 59 & 60.
History of the routesEdit
 BCT service 58        
 WMPTE service 58
 TWM service 58 
 NXWM service 60
The 60 route commenced in July 1951 when Birmingham City Transport replaced the Coventry Road trolleybuses with motor buses, and has remained unchanged since. Until the late 1980's service 60 ran alternate with service 58 which ran through to the Coventry Road / Arden Oak Road junction. In the mid 1970's WMPTE extended every other 58 to the Airport. For 20 years West Midlands Travel ran service 58 at peak times only before briefly operating it as an all day service with all journeys running to the Airport (although this had also occurred in the late 1990s under the Travel Your Bus branding). Although service 60 operates wholly within Birmingham it is undoubtedly also used by residents of Solihull given the Borough border runs immediately south of Coventry Road from near Gilbertstone Road to beyond Lode Lane. The current route of service 58 was introduced in 2011 - see section [i]Provision of bus routes in the Lyndon area of Olton[/i] below.
In the late 1990s a service 956 was introduced which served Coventry Road as far as Brays Road, terminating at Marston Green. In 2000 this was renumbered 56, diverted off Small Heath bypass and re-routed to serve Sheldon, then Sheaf lane and Common Lane back to Brays Road. The service ran twice an hour Mon to Sat daytimes. In the mid 1990s the service was truncated to operate peak times and only between Sheldon and Marston Green, beforing being withdrawn shortly afterward.
The current 59 route also commenced in 2011. In terms of being a Coventry Road service turning north through Yardley, it can claim historical lineage with Coleshill via Marston Green service 161/171, which from 1986 served stops on the Coventry Road (rather than running non-stop down it). In 1990 this service was renumbered 59. Around the same time local minibuses were introduced that included a link for the first time between Lea Hall and Shard End. In the mid-late 1990s service 59 became route 590A/590C until the service was discontinued 10 years later. Today's service 59 performs a number of functions. It contributes to service provision on the Coventry Road via Small Heath, it shares service provision on Church Road (north) and Queens Road, and it serves Whittington Oval and Lea Hall Road. It also provides a link between Lea Hall and Shard End, a link between the Kendrick Avenue area and the Chester Road shops/Morrisons, and it provides a service along Fordbridge Road in Kingshurst.
 NXWM service 957
The X2 was originally Midland Red service 176. The service commenced running in October 1955 and retained the number 176 through the WMPTE operated years until West Midlands Travel renamed the route as 57. In 1992 Your Bus introduced a rival service 57. As it ran via Hobs Moat Road rather than Old Lode Lane, WMT retained the service when they took over Your Bus, running the 57Y alternate with the parent service and renaming the variant 57A from 1997(?). The 57A, which had only ever run Monday to Saturday daytimes, was discontinued in 2010 when the 57 also became service 957 bypassing Small Heath. In 2015 the 957 became a Platinum route along with service 900 and then in December 2016 was renamed X2.
X1 Birmingham - Coventry
Edit
Route descriptionEdit
Service X1 links Birmingham to Coventry via Small Heath Highway, South Yardley (Swan Island), Sheldon, Birmingham Airport & NEC, Meriden Parkhill and Allesley. Variant X1E links Birmingham to Birmingham Business Park via Small Heath Highway, South Yardley (Swan Island), Sheldon and Birmingham Airport & NEC. The services are operated by National Express West Midlands from their Birmingham Central garage using double deck ADL Enviro400 MMC buses in silver and grey Platinum livery with specific route branding relief of light green.
History of routeEdit
The route was originally operated by Midland Red as service number 159 and remained unchanged after transferring to WMPTE (apart from certain journeys during 1976 running as 959 bypassing Meriden) until May 1985 when the Monday to Saturday service was extended from Birmingham to Halesowen, relaunched as a flagship Timesaver service and re-numbered 900. The service was also diverted onto the Small Heath bypass. At deregulation in October 1986 the service was additionally extended beyond Halesowen to Hasbury and the now Sunday only 159 replaced by a 7-day operation of the 900. In September 1988 the extension west of Birmingham was discontinued (the Birmingham to Hasbury section became route 19 which was subsequently withdrawn in April 2008).
NXWM service 900
The 900 journey time was then 60 minutes end to end, in recent years however as a result of additional routing, more stopping places and congestion, the end to end journey time has increased by around 40% which has made the service less attractive for those travelling between the two cities. The Timesaver brand was phased out around the turn of the century but in 2015 the route became NXWM's first Platinum route operated by ADL Enviro400 MMC buses that include coach style seating and in December 2016 the service was renumbered X1.
Current frequencies
Edit
Routes via Small HeathEdit
Service 58 runs every 30 minutes Monday - Saturday daytime.
Service 59 runs every 30 minutes Monday - Saturday daytime.
Service 60 runs every 15 minutes Monday - Saturday daytime and every 20 minutes evenings. On Sundays the service runs every 10 minutes between Birmingham and Yardley, Swan Island with alternate journeys (every 20 minutes) extending to Cranes Park.
Service 58, 59 & 60 together create a 7/8 minute Monday - Saturday frequency between Birmingham and Yardley (Swan), along the Coventry Road, a 10 minute frequency Sunday daytimes, and a 20 minute frequency during evenings.
Semi Express routes via Small Heath HighwayEdit
Service X1 runs every 30 minutes between Birmingham & Coventry daily & hourly on evenings.
Service X1E runs every 30 minutes between Birmingham and Birmingham Business Park Monday - Saturday daytimes & hourly to Birmingham Airport on evenings and nights, giving Service X1 an every 15 minute frequency between Birmingham & Birmingham Airport during Monday - Saturday daytimes and a 30 minute frequency during evenings and Sundays.
Service X2 runs every 15 minutes between Birmingham & Solihull Monday - Saturday daytimes, a 20 minute frequency on Sundays & half hourly on evenings.
Services X1/E & X2 together create a frequency of every 7/8 minutes Monday - Saturday daytimes and every 15 minutes evenings between Birmingham, Hay Mills, Yardley (Swan) & Sheldon.
External links
Edit
Other PhotosEdit
Provision of bus routes in the Lyndon area of Olton
Edit
. . . . . . . . . . . . . . . . . . . . . . . . . . . . . . . . . . . . . . . .
Lyndon bus routes prior to introduction of service S16: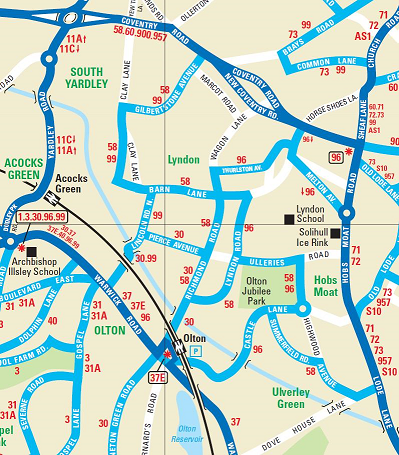 Lyndon is an electoral ward within Solihull MBC. It is not widely used as a place name, but for the purposes of looking at bus service provision here we are considering the areas of Olton and adjacent districts bounded by Coventry Road to the north, Warwick Road and Dovehouse Lane to the south, Hobs Moat Road to the east and Yardley Road to the west. The corners of this area constitute the four localities bus services through Lyndon can connect to, namely Acocks Green, Yardley (Swan), Sheldon and (toward) Solihull, with the first pair of these presenting the opportunity for onward connection to Birmingham. However, despite constant changes to the area's bus routes in the last 40 years, the current service 58, which commenced in 2011, represents the longest time the Lyndon area has been connected to both Birmingham and Solihull by a single through service.
Traditionally Lincoln Road North was served by Birmingham bus 44 but as Corporation buses did not venture beyond the city boundary it fell to Midland Red to provide the remaining services in the area. These were the hourly (Mon to Sat daytimes) service 173 Acocks Green to Yardley (Swan) via Olton Station and the full length of Lyndon Road, and service 174 running every 20 minutes (30 mins eves, hourly Sun) between Acocks Green and Sheldon via Olton Station, Dene Court Road, Castle Lane, Summerfield Road, Highwood Avenue, Dove House Lane, Lode Lane and Hobs Moat Road to Jillcot Road. The obvious thing missing from this service provision was a link to Solihull hence in 1972, possibly following discussions with the recently formed WMPTE, Midland Red replaced service 173 with service S57 which linked Lyndon Road, and a loop via Wagon Lane to Solihull via Ulleries Road, the full length of Highwood Avenue and Lode Lane (as well as serving Streetsbrook Road beyond Solihull).
After taking over services 174 and S57 in December 1973, WMPTE dropped the S prefix in June 1975 whilst increasing the frequency of service 57 to half hourly Mon-Sat daytimes (and hourly evenings from Nov 75). At the same time service 174 was renumbered 167 (and extended via a U-turn at Acocks Green to Shirley via Sharmans Cross, partly replacing ex-Midland Red services 170/172). This service ran half hourly Mon-Sat and hourly on Suns. Just 5 months later in November 1975 the 167 became the 186 and was routed via Ulverley Green Road rather than Dene Court Road (as well as serving Solihull beyond Sharmans Cross). In July 1977 the 57 was directly replaced by an extension to the 189 Shirley Station to Solihull service. Later in 1977, service 186 was withdrawn and replaced by a re-routing of service 199 (Castle Vale->Airport->Sheldon->Solihull) from Sheldon to Acocks Green via Olton Station although the evening and Sunday service was dropped. In the early-mid 1980s service 199 was diverted to run from the Airport to Solihull via Damsonwood. At the same time service number 174 was revived, now running Airport->Sheldon->Olton->Acocks Green->Hall Green (The Baldwin).
In October 1986 WMPTE's bus operations became West Midlands Travel and by the following year they had introduced the Solihull and Acocks Green minibus services. For Lyndon this meant the Acocks Green to Sheldon section of service 174 was replaced by minibus service 'S' (running every 15 mins / hourly eves & Sun, and including an additional return loop via Melton avenue), and the Solihull to Lyndon section of service 189 (which had been operated under tender for a year by Solihull District Omnibus) was replaced by minibus service 'Y' (additionally via Thurlaston Avenue to Wagon Lane then Garretts Green and Yardley to Acocks Green, initially running every 30 mins / hourly eves & Sun, then every 20 mins and extended to The Baldwin from October 1989). WMT also instigated a small extension to service 44 (which had remained unchanged throughout WMPTE's operation) via a loop of Woodcock Lane North and Clay Lane. In June 1990 service 44 was renamed as service 37A and reduced to peaks only. To compensate, minibus service 'R' was introduced running Acocks Green via Lincoln Road North, Pierce Avenue, Richmond Avenue and Barn Lane to Woodcock Lane North with Mon to Sat daytime journeys additionally extended via Gilberstone Road to Yardley (Swan). In 1992 minibus service 'S' was renumbered back to service 174. Not only was this route a replication of the original service 174 but it was also once again operated by Midland Red (West) after they won the tender to operate the service (outside of peak journeys) from Centro (WMPTE). Shortly afterward minibus service 'Y' was also renumbered to service 42 and minibus 'R' to service 32. Acocks Green to Lincoln Road North and Pierce Avenue was also now served by service 38 which then ran south on Richmond Road to Olton Station and hence to Solihull via Sharmans Cross. Service 32 was subsequently extended beyond Acocks Green, first via Pool Farm Road to Gospel Oak then beyond to Shirley. As all of the 174, 42, 38 & 32 ran Mon – Sat daytimes only, Centro sponsored an evening and Sunday service 674 which followed the 42 route from Solihull as far as Lyndon Road then Barn Lane and Lincoln Road to Acocks Green. In 1993 service 174 was directly replaced by minibus services 675 & 676 which additionally ran on to Cranes Park or Marston Green.
In 1994(?) Lyndon Road gained a direct link to Birmingham when a service 56 was introduced on the Coventry Road running as far as Lyndon Road then Ulleries Road and Moordown Avenue to the Castle Lane roundabout. This ran every 20 mins Mon-Sat daytimes with one journey an hour additionally extended via Castle Lane to Olton Station. In March 1996 service 56 was replaced by service 56Y which additionally ran via The Wheatsheaf and Melton Avenue as well as continuing beyond Olton Station to serve Solihull via Warwick Road. In 1998(?) services 56Y, 675 & 676 were withdrawn and replaced by service 38Y which ran from Birmingham to the Airport via Acocks Green and Sheldon. Given that from Castle Lane this followed the 56Y/42 route via Moordown Avenue, Ulleries Road and Lyndon Road then on to Melton Avenue, so as to maintain a service to Summerfield Road a variant of the 42 was commenced, the 42C, which diverted off the northern section of Highwood Avenue (before deviating again beyond Wagon Lane to terminate in Sheldon), each service running every 30 mins Mon-Sat daytimes. In the late 1990s service 674 was replaced by service 43 which additionally ran via Thulaston Avenue, Wagon Lane, Marcot Road, Gilbertstone Avenue and Woodcock Lane North, rather than Barn Lane. Meanwhile service 38 was replaced by service 71. By the end of the decade service 43 had been withdrawn leaving the area without an evening or Sunday service, whilst service 71 was replaced by service 40, which in turn was replaced by service 30 in 2001. Also that year the Y suffix was dropped from service 38Y before the service was curtailed to run Acocks Green to the Airport only the following year and reduced to an hourly service. In 2003 service 38 was replaced by an extension of service 37A (ie. same route except from Birmingham once again then additionally via Lincoln Road North). In 2005 service 42 was replaced by loop services 41A/41C (which diverted beyond Acocks Green to Solihull via Streetsbrook Road, and visa versa), which then, through changes to the route in Hall Green reverted to a linear service, 41, the following year. Also in 2006 service 37A was renumbered to service 38.
In January 2009, as part of the Solihull bus network review, service 38 was withdrawn. The Acocks Green to Sheldon section was replaced by service S12 however the new service ran direct to Olton Station and Castle Lane then via Hobs Moat Road between Castle Lane and Ulleries Road (rather than Moordown Avenue). After serving Ulleries Road the new service then turned south on Lyndon Road to serve Richmond Road, Pierce Avenue, Lincoln Road North and Barn Lane before running Lyndon Road, Melton Avenue and Hobs Moat Road to Sheldon. The S12 ran hourly and was operated by Silverline Travel. Also as part of this review, service 42C was discontinued with service 41 instead diverted via Summerfield Road, and service 30 was renumbered to service S3. In January 2010 services 41 and 32 were withdrawn. Replacement service 42 ran along the 41 route as far as Yardley (Swan) then via the 32 route to Acocks Green. In June 2010 service S3 reverted to service no. 30 but now operated by Central Connect under the 'Signature' branding. In October 2010 service S12 was withdrawn.
In March 2011, as part of the East Birmingham & North Solihull bus review, service 42 was withdrawn whilst the current 58 service was introduced. This ran from Birmingham along the Coventry Road then via a part of the 42 route between Yardley (Swan) and Richmond Road then via the southernmost section of Lyndon Road before covering the section of the 42 route between Ulleries Road and Solihull. At the same time service S12, withdrawn 5 months previously, was finally replaced by new service 99, operated by Central Connect, running along the same route as the S12 between Acocks Green and Ulleries Road (except via Moordown Avenue rather than Hobs Moat Road) then picking up the Lyndon Road / Thurlaston Avenue / Wagon Lane / Sheldon route vacated by the withdrawal of service 42, before going on to terminate in Lea Village. In February 2012 service 99 was diverted to run from Acocks Green via Lincoln Road, Lincoln Road North, Woodcock Lane North and Gilbertstone Avenue (then on to Sheldon and beyond via Marcot Road and the end of Wagon Lane), thus reintroducing a link between Gilbertstone Avenue & Woodcock Lane North and Acocks Green. To compensate the change in service 99, new service 96 (also hourly and also ran by Central Connect) ran the former 99 route from Acocks Green as far as Ulleries Road then Lyndon Road as far as Barn Lane, Thurlaston Avenue in the opposite direction to previously, and finally to Sheldon, outbound via Melton Avenue, returning via Coventry Road. In 2012 Central Connect became Blue Diamond although service 30 retained its 'Signature' branding.
The most recent service change in the area came in 2013 when the Fridays only service S16 commenced. This largely mirrors route 58 between Solihull and Yardley (Swan) but additionally serves the full length of Highwood Avenue, the eastern ends of Castle Lane and Ulleries Road, Lyndon Road between Barn Lane and Melton Avenue and Wagon Lane between Thurlaston Avenue and Marcot Road. In addition the service provides the central section of Lyndon Road, Thurlaston Avenue and Marcot Road with a service to Solihull and Yardley (Swan). Five journeys are made toward Solihull and four toward Yardley (Swan). The service is tendered to iGo (wmsnt Ltd).
External links
Edit
Ride service 58
Edit
Through Lyndon, toward Solihull, the bus turns off Coventry Road at 14:25 here and joins Lode lane at 9:40 here.
Ad blocker interference detected!
Wikia is a free-to-use site that makes money from advertising. We have a modified experience for viewers using ad blockers

Wikia is not accessible if you've made further modifications. Remove the custom ad blocker rule(s) and the page will load as expected.